Do these images make you think of a particularly awesome YA author?
Anyone, anyone?
Okay, well what about
these
:
tttttttt
Did you say, "
Courtney Summers
"?


DING! DING! DING!
So the super-exciting news is that there is a new Courtney Summers novel out in the world as of yesterday!
Kirkus Reviews
described
Fall for Anything
as
"An unusual, bold effort that deserves attention."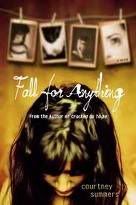 Heck.
Yes.
I am so looking forward to picking up this book for myself! Courtney Summers writes amazing, dark-edged, contemporary young adult novels that kick you in the junk. And when you get up off the ground and
pull yourself together, man
! you find that you're forever changed by the experience. In a good way! Because her novels? They make you think. And
feel
. And then you'll think and feel some more and WOW.
(I'm kind of a Courtney fan-girl. Can you tell? She is absolutely one of my favorite authors!)
So, please check out the awesome book trailer for
Fall for Anything
. And the
book
, too!
And because I can't resist, here's a little celebratory video in honor of Courtney and her third published novel.
(And here's the post at Courtney's blog explaining why. :-D)